Dicas
Se você deseja aprender com filmes, seriados, músicas, livros e cultura em geral, matricule-se nos Cursos da Summit for Teachers!
Aprendizado, Cultura, Interação e Resultados Notáveis para você e seus alunos.
Conheça os cursos de curta duração para professores de inglês agora na modalidade online.
Siga nessa coluna comentários e sugestões dos melhores filmes e séries!
Movie: The Best of Enemies (available on HBO)
By: Shamsh Haddade
Nelson Mandela once said that no human being was born hating another based on the color of his skin, but people learned to hate and if we could learn to hate, we were also capable of learning to love.
This movie is set in a 60s sleepy town in the Southern US. When the school for African-American kids catches fire, the community has to decide where these children will go to school, since sharing a class with white kids was something unthinkable at the time.
A Charrette is organized to come to a decision and the local leader of the Ku Klux Kan and a Black Human Rights Activist are invited to share the leadership of the meeting.
The outcome of this ensemble is unexpected and amazing. The movie makes us believe that many times, prejudices come from that inner need human beings have to belong, be part of something bigger than we are, that kindness generates kindness and an act of love can still change the world.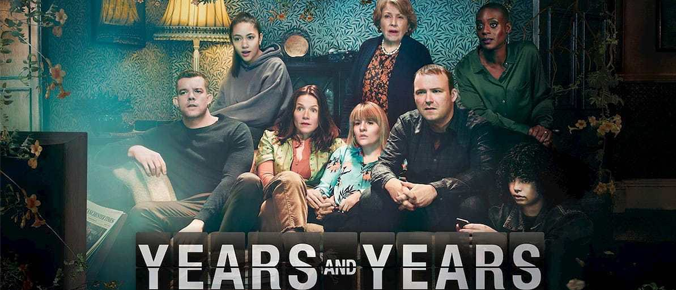 Series: Years and Years (available on HBO)
By: Shamsh Haddade
Fans of distopias like Black Mirror and The Handmaid's Tale cannot miss this new HBO series.
It takes place in London and starts very near our current moment, stretching out to 2031 in the 1st season.
Years and years tells us about the life of an average British family struggling to survive in turbulent new times. There is the technology dependency issue, the patriotism versus internationalism (which is such a dear discussion to this new European generation), the human rights and universal freedom quest as well as the mention of the situation of refugees in Britain, nevertheless, it is evident from the moment the series starts that it is about a phenomenon which has been hatching in several parts of the modern world: the ascension of the mediocre.
In the series, Emma Thompson is the candidate of The Four Star Party, in a clear reference to something that is not ideal but good enough. She introduces herself as a worried housewife who tells the truth nobody else does. Does it ring a bell?
She strikes a chord with ordinary people because she represents their shortcomings, frustrations, prejudice and pettiness. Needless to say she is elected and the rest will become history as soon as you watch this amazing series.
Series: Fleabag (available on Amazon Prime)
By: Shamsh Haddade
After the last episode of Sex and the City, all of us fans who had been deeply touched and liberated by the story of the four friends from a trendy and somewhat cold-hearted New York of the 90s, kept asking ourselves when we would have a show about sex, love and single women which could light a candle to Carrie's troop adventures.
Well, we need wait no more! Here comes the wittiest and most original show in the last few years.
Fleabag is the millennial Sex and the city and its protagonist is a post-modern British Samantha with issues. It is hilarious as well as serious at times, it portrays the cynicism, emotional helplessness and utter loneliness of this new generation brilliantly while managing to leave a positive outlook in the end.
I highly recommend it!
Movie: The Little Death
By: Shamsh Haddade
Is sex overrated? Can a couple be happy without having the perfect sex life? This is the main question this hilarious movie tries to answer.
The scene is set in an Australian neighborhood where several couples are struggling to take more out of their sex lives and, therefore, get involved in situations that will have you bursting out in laughter. The acting is very convincing, and the humor is witty and sharp. Although it is a feel-good movie, it carries many elements of reality when it comes to analyzing people's neurosis regarding sex and brings some food for thought on how insane people can get when searching for total fulfillment in a relationship, when self- involved in an egotistical image of oneself or extremely frustrated for not finding happiness with their significant half.
In a nutshell, almost two hours of great fun.